Digital Portble Ultrasound Scanner for VET TY-6858A-1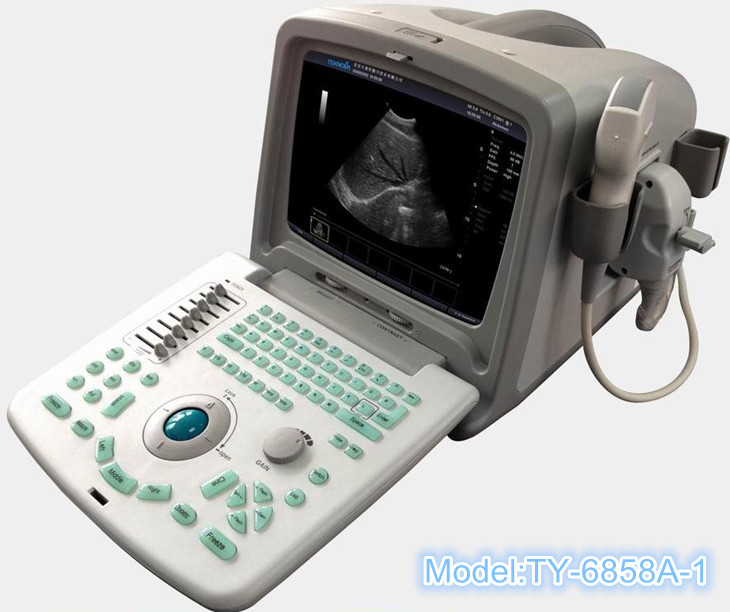 Main Probe :3.5MHz Electronical Convex Scanning
(R=60)(2.0M---5.0M F.C.)
Optional Probe:
7.5MHz Electronical Rectal Scanning (5.5M---10.0M F.C)
7.5MHz High Frequency Linear Scanning( 5.5M-10M F.C)
Max.DisplayDepth(mm):¡Ý240
Distinguish Rate (mm):Oriental ¡Ü3(Depth¡Ü80mm)
¡Ü4(80mm< Depth ¡Ü130mm)
Portrait ¡Ü2( Depth ¡Ü80mm)
¡Ü3(80mm< Depth ¡Ü130mm)
Blind area(mm):¡Ü5
Geometry Position Precision(%):Oriental ¡Ü15
Portrait ¡Ü10

Monitor Screen:10" SVGA black and white screen
Display Mode:B,B+B,4B,B+M,M
Gray Scale:256
Magnifications of picture:¡Á1.0,¡Á1.2,¡Á1.5,¡Á2.0
TGC Adjusting:8 segment
Cinema Replay:256 frames
Power off Storage:8 frames
USB:Large capability storage of images(Optional)
Clock:Time display

Electronical Focus:Free combination of 4 focus.
Frame Correlation:4 types in the mode of B,B+B
Image Rotation:Up/Down, Left/Right,White/Black
Measurement Application:Distance, Perimeter, Area, Ellipse,Volume,
Heart Rate,Pregnant Weeks,Fetus Weight,Estimated Date of Childbirth.

Character Note:Date,Patient No,Age,Sex,Focus Combination,Frame Correlation,full-screen editable note
Posture Indication:30
Birth Period package:cat, dog, sheep, cow, horse etc.