Tablet Ultrasound Scanner With USB probe For VET TY-6858B-2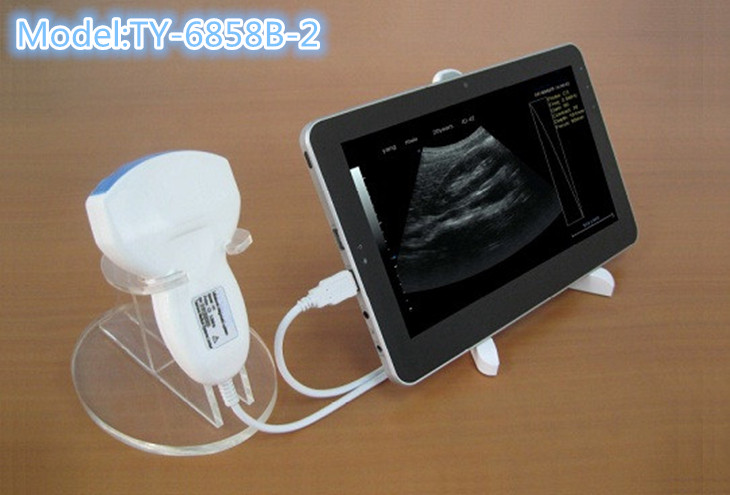 TY-6858B-2(tablet type) is an USB tablet full digital ultrasound scanner with revolutionary design only weights 2.5KG(GW), it integrates ultrasound power in a probe with a touchscreen pad,It's an ideal device for emergency,first-aid, bedside ultrasound diagnosis. It also makes a good choice for musculoskeletal
application, as well as for human uses,also it with li-battery which can continuous working for around 5hrs.


1.System configuration:

Host performance
Dominant frequency:up to 1.66GHz
2G RAM;WIFI/Bluetooth
Storage:32G
Window 7/WindowsXP/Window8/Windows Vista OS
11" LED capacitive touch screen tablet, 1 366*768
Battery: 2890mA lithium battery, 5 hours endurance time
USB ports: 2
Dimension (W¡ÁL¡ÁH): 302¡Á196¡Á130mm ;Weight: 998g
Special USB-connected ultrasound probes(USB 2.0)
automatic identification, Auto-freeze
Operating language:English,Chinese


Transducers
-USB Electronic convex array transducer C3: CA3.5MHz/R50,70.75¡ã
-USB Electronic linear array transducer L7: 7.5MHz
-USB Electronic micro-convex array transducer M3: CA3.5MHz/R20,101.07¡ã


2.System display
Imaging mode: B, BB, BM
Main display annotation:
hospital name,patient ID,name and gender,date time,probe type,scanning depth,
gain,frame averaging,line averaging,gamma correction,contrast,frame frequency,
application mode(vet),probe direction identification,focus location,TGC curve,
depth and speed scale,cine loop frames,measurement and results,operation keys.


3.Technical parameters
TGC
Gross gain 25 levels (0-100db, step=4)
Contrast 25 levels (0-100, step=4)
Depth:C3 23 levels (70-225mm,step=7mm)
L7: 23 levels (35-112mm,step=3 or 4mm)
M3: 23 levels (70-225mm,step=7mm)

Focus C3: 15 levels (25-150mm, step=5mm)
L7:15 levels(12-68,step=4mm)
M3: 15levels(25-150mmstep=5mm)

FrameAver: 0-4 adjustale
LineAver: 0-2 adjustale
Gamma: 0-20 adjustale
Cine loop frame: at least 512
Probe conversion: auto identify
video save,image save
Image reversal(Invert L/R)
New patient(Exam):patient ID,name,age,etc
Patient info.(Patview):image,cine loop
Zoom

Measurement: distance,area,perimeter,time,speed,heart rate
Obstetrics: BPD,FL,CRL,HC,AC,GA,FW
Probe auto freeze:5 mins
Images and videos offline measurement
VET(Horse, Cattle, Sheep, Dog, Cat)OB measurement
Application mode(VET)optional and memory saved
Body markers(VET):15
Chinese/English language switch