4D Portable Color Doppler Ultrasound Scanner TY-6868D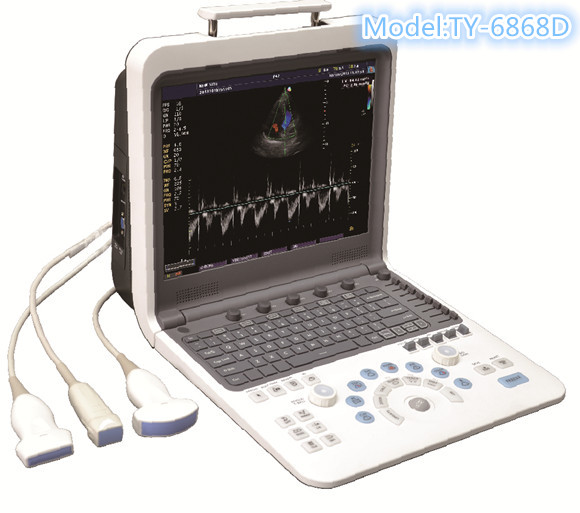 An excellent HCU (Hand-Carried Ultrasound) System TY-6868D is a High-end Color Doppler HCU (Hand-Carried Ultrasound). Based on Tianyi¡¯s leading digital ultrasound technology, TY-6868D offers superb 2D and premier doppler imaging modes such as CFM, CW, PW, CDE, CCD, HPRF. This flagship HCU can meet strictest requirements from cardiologists and it provides powerful image and data management including 4D imaging.
Features & Advantages:
Multi-application: abdomen, cardiology, OB/GYN, small parts, peripheral vessels, urology, rectum, pediatric, orthopedic, intra-operative ultrasound, ultrasound guided biopsy.
 Continuous high-precision DBF
 THI (Tissue Harmonic Imaging)
 TDI (Tissue Doppler Imaging)
 Panoramic zoom
 Parallel scanning
 PC platform / Windows XP Embedded O/S
 Transducer: multi-frequency transducer series
 Multi-language Interface: English, French, Spanish and Italian and Japanese etc.
 Printing: all PC and video printers supported 
Transducer Suitcase Technical Specifications:
General Descriptions
Imaging mode: B B/B B+M Steer M Color M CW CFM PW PDI CDE CCD HPRF Gray scale: 256 Transducer frequency: 2.0 ~ 14MHz Transducer connector: 2 Imaging Technology: Continuous High-precision Digital Beam-former Dynamic Frequency Integration Imaging High-precision Dynamic Receiving Focus Super Wide-band Imaging Technology Self-adaptive Image Optimization Processing Multi-beam Imaging Automatic Flow Volume Analysis Compound Imaging Panoramic Imaging Self-adaptive Vascular Imaging Self-adaptive Doppler Imaging THI (Tissue Harmonic Imaging)
TDI (Tissue Doppler Imaging)
Image Processing
Pre-processing: 8-segment TGC gross gain dynamic range gray map smooth acoustic power adjustment scanning angle selection Post-processing: edge enhancement frame correlation line correlation ¦Ã-correction contrast brightness
Measurement & Calculation
B-mode: distance, circumference, area, volume, angle, residual urine volume, histogram,
profile M-mode: distance, time, velocity, heart rate D-mode: doppler blood flow measurement, velocity, acceleration, pressure gradient, time, VI, PI, RI, etc Software packages: Carotid: IMT (Intima-media thickness) measurement GYN uterus, endometrium, ovary, cervix, ovarian follicle OB GS, CRL, LV, BPD, OFD, HC, TAD, LVW, HW, TCD, IOD, OOD, BD, APTD, TTD, AC, APD, FTA, HL, ULNA, FL, FIB, CLAV, etc Cardiac TEI Index, Editable Cardiac report, PISA, M. Simpson, B-EF¡¢M-EF£¨Pombo¡¢Gibson¡¢Teichholz£©, Diameter Function, PV flow, AV-Area, B-LV/Ao¡¢M-LV/Ao, MV Regurg, customized annotation etc
Urology volume of prostate, volume of bladder, volume of urine, volume of trans zone, HipJ.Angle£¨hip joint dislocation in neo-natal and babies£©¡¢slice v, etc Small Parts and Peripheral Vessels vascular cross-sectional area, heart rate, stroke volume, flow per unit time, Ejection Time, % stenosis, mean velocity of flow, RI, PI, etc.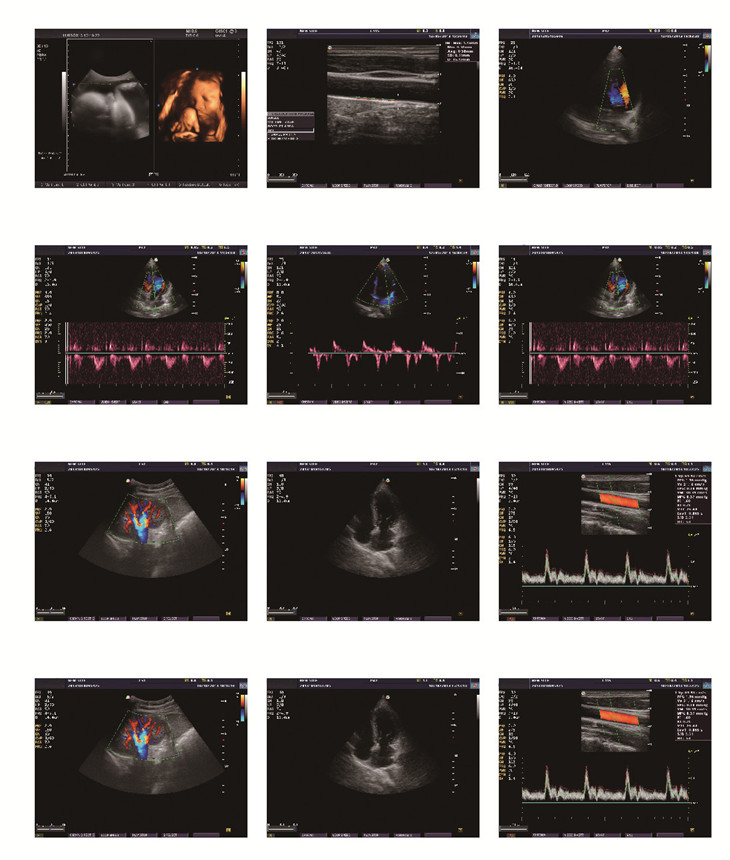 Standard Configuration:
TY-6868D main unit 15" high definition non-interlaced LCD monitor, special for medical imaging DICOM 3.0 Measurement & calculation software packages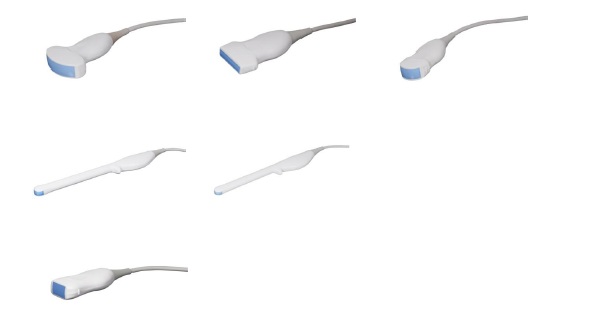 Electronic convex array transducer: CA3.5MHz/R50 (2.0-6.0MHz)
Electronic linear array transducer: LA7.5MHz/L40 (5.0-10.0MHz)
4D volume transducer : CLA4.5MHz (2.5-6.5MHz)
Electronic linear array transducer: LA7.5MHz/L50 (5.0-10.0MHz)
Electronic Phased array transducer: PA2.5MHz (2.0-4.0MHz)
Electronic endocavity transducer: EV6.5MHz/R10 (5.0-9.0MHz)
Electronic micro-convex array transducer: MC3.5MHz/R20 (2.0-6.0MHz)
Needle-guided brackets (optional)