Portable Color Doppler Ultrasound Scanner TY-6868C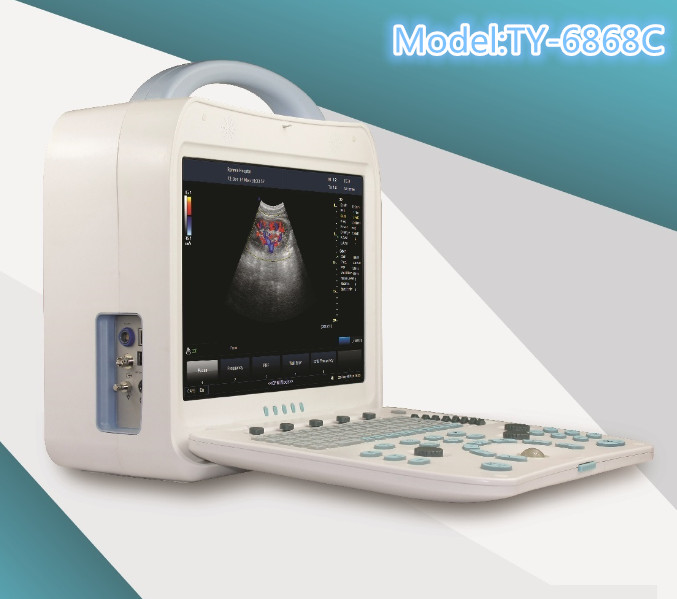 It is a portable color Doppler ultrasound ,which is suitable for
medical institution at all levels in the abdomen,gynecology and obstetrics,superficial organ,cariac,peripheral vascular,urology diagnosis,etc.

TY-6868C adopts integrated advanced clinical ultrasound solutions,with excellent image,comprehensive fucntions,abundant software and light and handy shape design,improving
the accuracy of clinical diagnosis and the efficiency of examination.

Product features:
Various application modes:B mode(including B/B,4B),B/M mode(M)
CFM,PDI,PW,CW

Excellent image quality,high-definition 2D image quality,helpful
to observe the image more accurately for doctors.

More probe sockets design,support equipped with multiple probe:convex,high-frequency linear,micro convex,intracavitary probe:support each probe multiple frequency conversion.


Powerful computer platform,through accessing the internet to diagnose equipment problems and provide online guidance,time saving.high efficiency;
Adopt modular design,through replacing the module to make maintenance easier.

Provide free software upgrade,suficiently protecting the user's investment value.

Image Technology
The high precision digital continuous beam shape:
Subtle ultrasound beam contro can effectively remove sidelobe noise,promote space resolution and contrast resolution drastically,show whole organization structure exquisitely.

Dynamic frequency fusion imaging:
Adaptive to conrol the transmit of near field to far field,receiving frequency,make the perfect combinatin of the strong penetration and high-resolution images.


High precision delay dynamic receive focus point by point:
High precision delay focus for the whole image,real display,exquisite organ information.

Adaptive image optimization processing technology:
On the basis of the current receiving organ signal,automatically process digital parameters optimization to display more perfect ultrasonic images.


Adaptive doppler imaging technology:
Enhance signal for the weak doppler signal,and through the complex digital processing technology to enhanced spectrum signal,make the doppler sensitive and display effect improved well.

THI technology:
At a relatively low frequency process,ultrasonic launch and receive high frequency second harmonic signal in the echo signal imaging.At the same time of guaranteeing good penetration,enhance tissue imaging resolution and remove artifacts at the maximum eliminate.Further diagnose cardiac function
and myocardial survival situation,providing the basis for quantitative analysis of myocardial density.