Ultrasound scanner USB BOX TY-6858A-3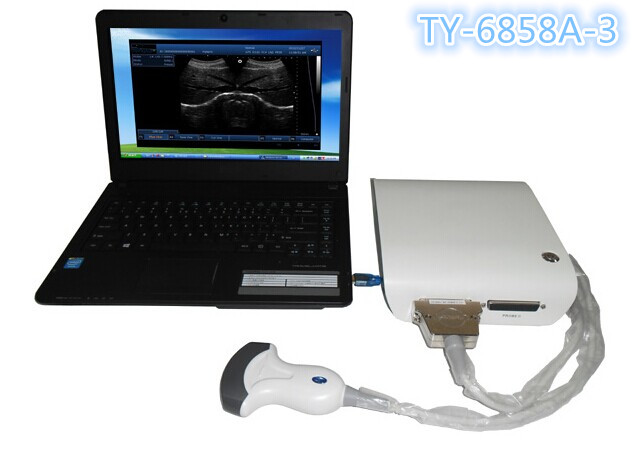 Instructions:
Hand carried full digital USB ultrasound box scanner is easy to use, only need to connect it to computer by USB cable and install the software in the computer. Then can realizable the function as a computer based ultrasound B Scanner.

The keyboard is use the computer keyboard, by software you can define your own computer keyboard keys to a certain function button. Such as the "Space" key can be defined as "Freeze" button, the "+" and "-" can set to value increase and decrease, all by your define.
-Multiple language: English, French, German, Spanish, Russian, Italian, Portuguese, etc.
Specification:
-Operation system: Windows XP or windows 7
-D-Maximum Scanning Depth: Max. 250mm
-Multi-frequency: 5 segment frequencies
-Zoom: 10 ratio, 1.5, 2.0, 2.5, 3.0, 3.5, 4.0, 4.5, 5.0, 5.5, 6.0
-Image gray scale: 256 level gray scale
-Cine Loop: Max. 1024 frames
-Scann mode: B, 2B, B/M, M, 4B, 9B, ZOOM(Real-time zoom on B mode)
-Image processing: Pre-processing, after-processing, dynamic range, frame rate, line average, edge; Enhancement, Black/White inversion; Gray scale adjustment, contrast, brightness, Ž├ Revision.
Medical USB portable B/W scan ultrasound
-Measurement and calculation(human):
B mode: Distance, circumstance, area, volume, angle, ratio, stenosis, profile, histogram;
M mode: Heart rate, time, distance, slope and stenosis;
Gynecology measurement: Uterus, cervix, endometrium, L/R ovary;

Obstetric: Gestation age, fetal weight, AFI;
Cardiology: LV, LV function, LVPW, RVAWT;
Urology: Transition zone volume, bladder volume, RUV, prostate, kidney;
Small parts: Optic, thyroid, jaw and face.
Measurement and calculation(veterinary): Cattle: BPD, CRL, TD;
Horse: GA; Dog: GS; Cat: HD, BD; Sheep: BPD, CRL, TD
-Image store: By computer hardisk or USB disk
-Print: By USB laser/inkjet printers with computer
-DICOM3.0, medical digital imaging and communication
-3D image function(optional): Can get rebuilt 3D image by any probe
-Work time by battery(optional): About 3 hours
-Probe Connector: 2
Standard configuration: Main unit
3.5MHz Electronic convex array probe
Optional: 7.5MHz high frequency linear probe
6.5MHz tranvaginal probe
micro-convex probe
Silica gel waterproof ultrasound keyboard
Warranty 12months