Laptop ultrasound Scanner TY-6868S-1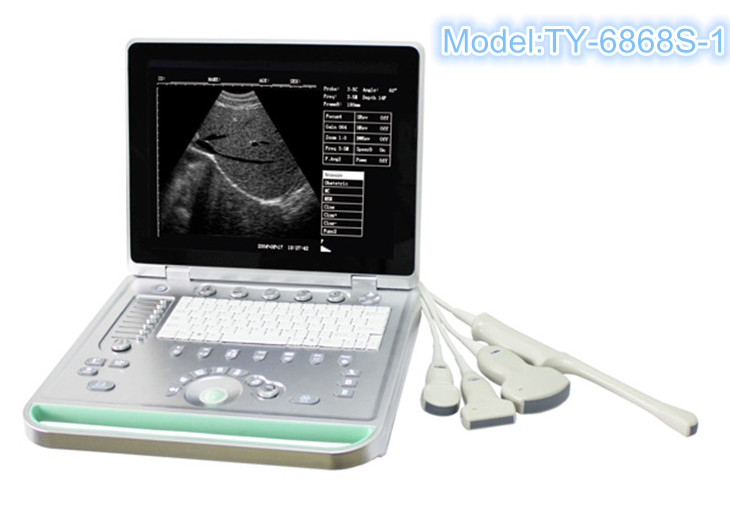 Features:
-15 inch LCD screen
-Full digital imaging technology, crystal-clear Image
-Pretty and light
-8 segment TGC
-Broadband multi-frequency probes
-2 probe connector
-Silica gel backlight gravure laser keyboard
-USB flash disk large volume image storage
-Cine loop
-Built-in battery(can work more than 5 hours)
-High Cost-effective
Specifications:
-Display size: 15 inch LCD screen
-Working frequency: 2.0MHz~10MHz
-Display mode: B, B+B, B+M, M, 4B
-Scanning range: Convex array 60¡ã~150¡ã
-Amplification factor£º1.0, 1.2, 1.5,2.0
-Gain control: 8 segments TGC and overall gain can be adjusted respectively
-Image processing: 8 ¦Ã corrections, frame correlation, point correlation, line correlation,
digital filtering, digital edge enhancement and pseudo color processing, etc
-Image gray-scale: 256 levels

-Scanning line number: 512 lines/frame
-Frame rate: 30 frames/second
-Digital scanning conversion: 512¡Á512¡Á8 bits
-Memory: USB flash disk large volume image storage
-Conventional measurements: distance, perimeter, area, volume
-Obstetric measurement: gestational weeks (BPD, GS, CRL, FL, HL, OFD, TTD, AC), expected date of confinement and fetus weight, etc.

-Report function: auto make report
-Built-in battery capacity: can work more than 5 hours
-Output interface: USB port, video.
-Overall size: 362mm¡Á340mm¡Á60mm
-Total weight: 4Kg(with battery)

Standard configuration:
One host, one convex probe, one aluminum trunk
Optional:
Trans-vaginal, linear, micro-convex probe;
Biopsy; Trolley; Printer.