USB Probe Ultrasound Scanner TY-6858B-2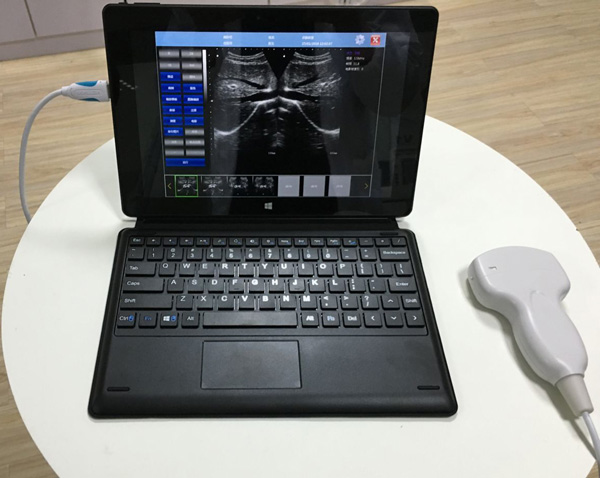 Compatible with Windows XP,Win7,Win8,Win XP and Vista system.
Technical Specification:

Imaging Technology: Full digital beam forming, Digital Dynamic multi-stages focusing and Real time dynamic Aperture, 8 A/D Capture channel.
Scanning mode: Electronic convex array, linear array, micro-convex array
Abdomen probe frequency scope: 2.0/2.5/3.5/4.0/5.0MHz, multi-frequency, +Harmonic Imaging
Image gray scale: 256
Cine loop memory: Max. 511 frames, continues play, free setting on cine loop frames

Scanning Depth: íŢ240mm, real time depth 18-level adjustable
Resolution: Lateralí▄2mmúČVerticalí▄1mmú╗
Geometric position accuracyú║Lateralí▄5%, Verticalí▄5%ú╗Blind Area: í▄3mm
Scanning Angle: convex probe 60íŃ-150íŃ, real-time adjustable
Amplification factor: 1.0, 1.2, 1.5, 2.0
Probe connector: USB type
Display mode: B, B+B, B+M, 4B

TGC: 8 steps TGC adjustment
Image adjustment: Brightness, Contrast, Pseudo color, Total Gain adjustment. Frame correlation adjustment, 4 Focus postion point adjustable, Dynamic range: 30dB-120dB adjustable
Pre-processing: Cloud processing technology
8-segment TGC
Gain(B&W)
Dynamic range
Persisitence
M Soften
Noise suppression
Post-processing: Image enhancement
Gray Map
Colorize Map
Tissue Specific Imaging
Left/right reverse
Up/down reverse

Body Mark: 160 kinds
Pseudo color: 7 kinds
Measurement and calculation:
B mode: distance, circumstance, area, volume, angle, ratio, stenosis, profile, histogram;
M mode: heart rate, time, distance, slope and stenosis;
Gynecology measurement: Uterus, cervix, endometrium, L/R ovary;
Obstetric: gestation weeks (BPD, GS, CRL, FL, HL, OFD, TTD, AC), fetal weight, AFI;

Cardiology: LV, LV function, LVPW, RVAWT;
Urology: transition zone volume, bladder volume, RUV, prostate, kidney;
Small parts: optic, thyroid, jaw and face.

Notation: Date, Time, Name, Patient ID, Age, Doctor, Hospital Name. Full screen annotation edit.
Arrow Mark function
Biopsy Guide function, Guideline and 4-level Angle adjustable
Software upgrade available
With built-in image workstation software, report printing support.
Power Inputú║5V, 500-900mAh
Operation interface: Chinese/English, switchable

Working system: Userí»s computer or tablet, Win XP, VISTA, WIN7, WIN8.
Optional probes: linear array ; micro-convex array probe
Standard configuration:
USB type 3.5MHz convex array probe 1 piece
Software disk 1 piece