Wireless Sector Probe Ultrasound Scanner TY-6858B-3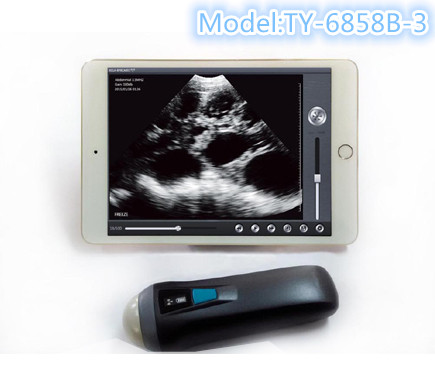 This wireless sector probe scanner with integrated ultrasound circuit boards inside, can wirless connect to the PC Tablet, SmartPhone that after installed ultrasound software, then realize the functions of a ultrasound scanner.
It is small and smart, convenient for carry and operate.

Specifications:
-Scanning system: sector sweep;
-Frequency£º3.5MHz/5MHz
-Depth: 180mm;
-Host: Apple IPAD mini/IPAD air/IPHONE/android smartphone etc.
-Throughout: 54Mbps
-Field of view: 80 degree
-Display mode: B
-Image gray scale: 256 level
-Connection: 802.11.g WIFI(AP)
-Pseudo color: 8 type
-Measure: distance, area, Obstetrics;
-Power supply: by built-in battery
-Power consumption: 5W (probe run) /1W (probe stop)
-Battery last: 5 hours

-Footprint: 138mm¡Á44mm¡Á38mm
-Weight: 200 gram
Standard Configuration:
-Main Host(probe) 1 Unit
-Internal Battery and charge cable 1 Set
Biopsy Guide function, Guideline and 4-level Angle adjustable
Software upgrade available
With built-in image workstation software, report printing support.
Power Input£º5V, 500-900mAh
Operation interface: Chinese/English, switchable
Working system: User¡¯s computer or tablet, Win XP, VISTA, WIN7, WIN8, Android system compatible.
Optional probes: Currently only support convex array probe, the linear array and micro-convex array probe will be coming soon.
Standard configuration:
USB type 3.5MHz convex array probe 1 piece
Software disk 1 piece