Sonoscape Portable Color Doppler S2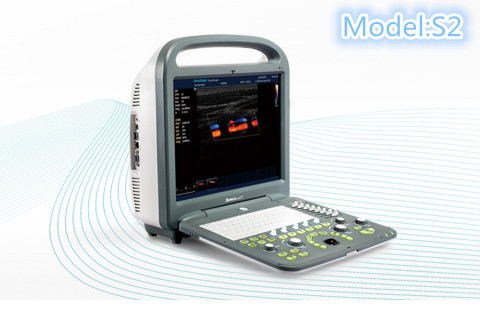 The S2 is SonoScape's smart portable color Doppler system. Featuring SonoScape's new software platform, the S2 brings more value to sonographers than any other in its class. S2 is catered to the needs of doctors with features such as, intelligent patient file management system, convenient user-definable settings, and professional diagnostic applications. Working with the S2, you can have comfort, accuracy and confidence.


Highly mobile with versatile functions and superb design makes the operation more convenient and faster
15-inch high definition LCD monitor provides clear image from any angle

Two active transducer sockets allows frequent changing of transducers
Duplex, Color Doppler, DPI, PW Doppler, tissue harmonic imaging, u-scan speckle reduction imaging, compound imaging, trapezoidal imaging


New patient file management for fast and efficient workflow enhance work efficiency

Full patient database and image management solutions: DICOM 3.0, AVI/JPG, USB 2.0, HDD and PDF report increases operator satisfaction

Built-in battery supports 1-hour scanning capability


Designed to cater to the needs of doctors: the S2 provides a intelligent patient file management system, convenient user-definable settings and professional diagnostic applications.

The S2 is configurated with comprehensive functions, including complete scanning modes, such as outstanding 2D performance, sensitive blood flow, and 3D/4D imaging technology. The S2 is endowed with the best functions in its class! The scanning modes include B /2B/4B/M/ Steer M (optional)/Color/DPI/PW/ CW (optional).


Advanced Imaging Technology and Broad Range of Clinical Applications

The advance technologies used in the S2 make it easy to get accurate results. Tissue Harmonic Imaging,Ž╠-Scan Speckle Reduction (optional) , Compound Imaging, Panoramic imaging (optional),Trapezoid imaging (optional),Freehand 3D(optional) and 4D imaging (optional) will fulfill your needs anytime anywhere.
General Applications: Abdomen, Obstetrics, Gynecology, Small parts, Muscle-skeletal, rheumatology, Vascular, Urology, Cardiology etc. Post-measurement and calculation software packages will allow you to focus on what you want. Provides professional reports from different exams for comparison.


Multiple Transducers
Convex, Linear, Transvaginal, Transrectal, Micro-convex, Intraoperative,
Phased array, Volume 4D

Upgraded workflow and smart data management makes the S2
a more user-friendly and productive Color Doppler System.