Full Digital Portable Ultrasound Scanner TY-6868A-1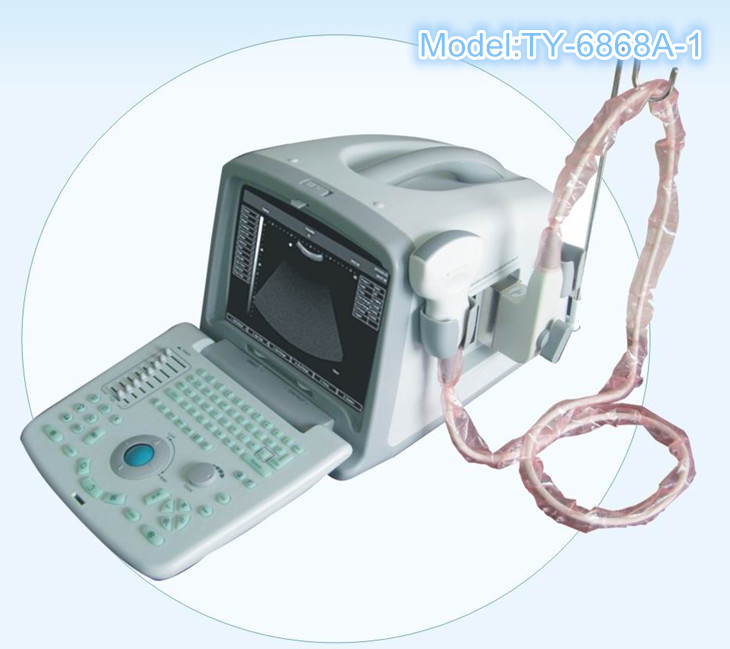 Features:
W/XP windows system
Continuous dynamic variable aperture, continuous dynamic focusing,wide band pre-amplification,log compresiion, TGC control, dynamic filtering,edge enhancement and frame correlation."
Main Technical Index :
Probe connector: 2
Monitor: 10.1 " white-and-black SVGA display with high resolution
Gray scale: 256
Display mode: B, B / B, 4B, B / M, M

Main probe: 3.5 MHz electronic convex array (frequency conversion)
Measuring functions: distance, area, circumference, volume, heart rate, pregnant week,fetall weights,etc.
Probe frequency:2.5MHz -10.0MHz (Depends on the probe type)
Lateral resolution:í▄3mm(depthí▄80mm)
í▄4mm(80mm‹depthí▄130mm)

Longitudinal resolution:í▄2mm(depthí▄80mm)
í▄3mm(80mm‹depthí▄130mm)
Detectable depth:íŢ160mm
Blind area:í▄5mm
Geometrical position distortion:Lateralí▄15
Longitudinalí▄10
Depth scanning: íŢ170mm

Body markers: a variety of body markers (more than 50 sorts)"
Display information: date, time, age, sex,patient ID and hospital information , gain, focusing, comments , scroll, zoom setting
Zoom:í┴0.8í┴0.9í┴1.0í┴1.1í┴1.2í┴1.3í┴1.4í┴1.5
Probe frequency conversion: (2.5-3.5-4.0-5.0MHZ) electronic convex array,

TGC adjustment: 3 TGC adjustments
Cine loop: 192 frames
Image processing: up/down, left/right, black/white
Pre-set:Time,hospital name,fetal weight formula,image format,pseudo-color select ,ect.

Terminal output: 2 USB Port, 1 mini2.0USB Port and 1 video output
Storage: Built-in memory,storage via USB disk,saved image can be recalled for re-analysis.(1024 permanent storage)

1.Abdomen(Distance, circumference, area, volume)
2.GYN/OB (EDD,GA,BPD,GS,CRL,AD,AC,FL,HC,FTA,APTD,TTD,FW)
3.Cardiology(SAm,SL,SAi,SD,DAm,DL,DAi,DD,ESV,EDV,SV,EF)"
Packing size:490mmí┴390mmí┴410mm
Package:Carton box
Gross Weight:12.5KG
Standard configuration:
10-inch SVGA high resolution monitor
3.5MHz multi-frequency convex probe
Optional parts:
Trolly;U disk;video printer
6.5MHz transvaginal probe
6.5MHz rectal probe
7.5MHz high frequency linear probe